Law Enforcement & Police Forces
Next Generation Imaging Technology
Enforcing the law and protecting and serving our communities can be a dangerous task. Hawkeye Systems, Inc. provides tools that can make police work safer and more effective. From customizable body armor that can be equipped with a variety of cameras and sensors to keep officers safe, to stand alone fixed and mobile camera systems and drone networks that can help both with the collection of evidence, detection of threats and monitoring of crowds and assets.  The wide Field of View on our camera systems allow you to capture the full story, reducing uncertainty in how events unfolded.
We can provide customized tactical gear and body armor with our high resolution, wide Field of View, Smart AI Enabled police body and head cameras.   The Hawkeye Systems Smart AI Enabled Head and Body Camera Systems provide a way to multiply the view and presence of the deployed force in a sector by literally providing them 'eyes in the back of their head' (a broader field of view)
In a body-worn configuration the camera system can be developed to link similar views of perspective—this can be thought of in terms of a buddy-system employment of a group of cameras in close proximity to one another as they would be configured in a patrolling nature or during routine law enforcement activities
This provides the opportunity for the view audience or audiences to 'FLOW' the camera to a view that is peripheral and outside the view of the human eye for early warning or post-event capture analysis
Post-arrest or detention this camera creates the ability to demonstrate threats that were present at the scene or 3rd party influencers (riot instigators, crowd actions, etc.) that are not currently available in a traditional Field-of-View camera
A variety of sensors can also be embedded for monitoring vital signs, local environment monitoring like temperature.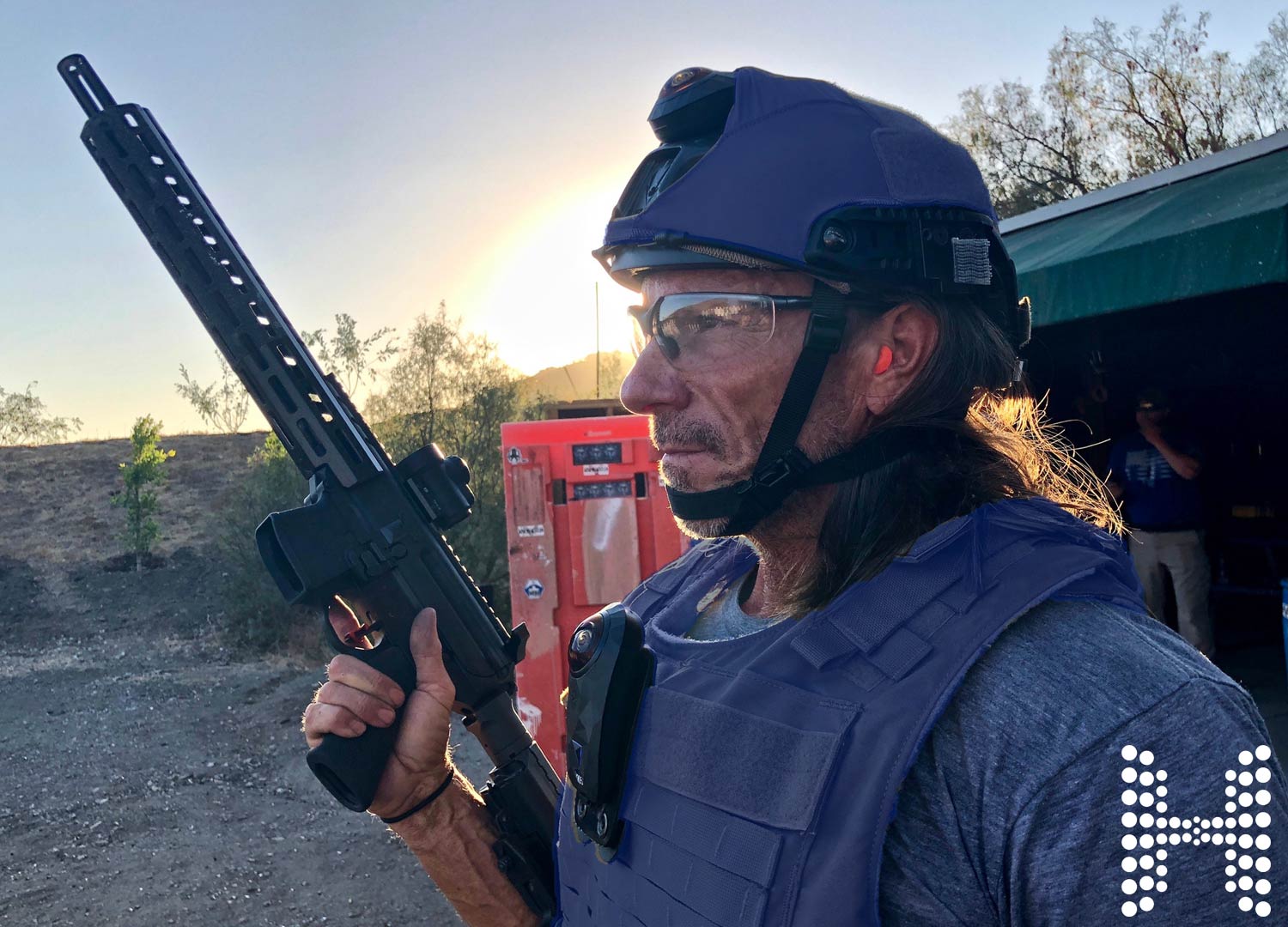 Viewpoint from AI Enabled Camera
Hawkeye AI Enabled Camera
Front View (110° FOV/4K)
Hawkeye AI Enabled Camera
Front View (200°FOV/4K)

Hawkeye vs. Industry Benchmarks
MIL-STD-810G; IP67; Drop Test 6 Feet; 3 Year Warranty

Tag Videos: Call Type, Suspect Names, Case #, Notes, Etc.

Connectivity/Data Transfer

Earphones (3.5 mm), Mini-USB 2.0, External Video (2.5 mm)

GPS/GLONASS/Galileo/BeiDou

Data Collection and Management
The AXA is the world's most accurate and adaptive multi-camera array. Better images mean better data for your mission critical applications.
The AXA camera is fundamentally a linked set of cameras—which we call the AXA Platform — that have a high field-of-view ("FOV") in each lens that can be stitched together almost instantaneously.
The AXA collective and individual camera system provide the Intelligence, Surveillance and Reconnaissance law enforcement sector with, as yet, unforeseen customizable, multi-person consumable imagery in a 3D format that creates a live-virtual experience that can be practically exploited for training, operational targeting and protective early warning.
The AXA is intended to provide the law enforcement customer with a 360-degree, user-defined and customized, field of view in real-time that is exportable to multiple users or group outputs through various platforms simultaneously. The AXA will also provide geo-location and range data to assist/confirm the objective imagery continuously
Our manned and unmanned systems provide critical observation and communications capabilities serving the increasing demand for actionable intelligence, while reducing risk to individual law enforcement officers.
A small Unmanned Aerial System can provide real-time observation and communication capabilities to the small units who control them.